Trading Standards Approved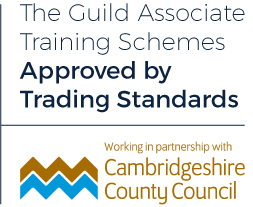 In 2017, The Guild of Property Professionals was given formal approval for their Associate Scheme from Cambridgeshire Trading Standards.
All staff working for a Guild Member has access to training to help them fulfil their duties to sellers, buyers, landlords and tenants in a professional way. There are two aspects to the scheme: sales and lettings. The Associate Scheme is designed for basic knowledge and entry level sales and lettings where there are 40 modules to complete covering topics from Anti-Money Laundering Regulations to Data Protection.
In addition to the Trading Standards Approved Associate Scheme, Memebrs' staff also have access to an Enhanced Training Scheme which is designed to help hone and develop their skills in sales and lettings.
Paul Offley, Compliance Officer at The Guild says, "We are delighted to be working with Cambridgeshire County Council in a co-ordinated Primary Authority Partnership which will help enhance the advice it can provide to its members."
Iain McKenzie, CEO at The Guild, commented "Trust and confidence is one of the four pillars of strength within The Guild. This not only applies to the relationship we have with our Members, but more importantly our Member's relationships with their customers. At The Guild we strongly recommend anyone selling their home to use a Guild Member with the associate scheme accreditation."